ADS THAT PLAY ON THE LOGO
YOU KNOW YOU HAVE AN ICONIC BRAND WHEN ADVERTS CAN BE CREATED USING LITTLE MORE THAN A CROPPED LOGO.
MCDONALD'S GOLDEN ARCHES LOGO IS SO ICONIC THAT THE "FOLLOW THE ARCHES" CAMPAIGN – A SERIES OF DIRECTIONAL BILLBOARDS USING CLEVER CROPS OF THE FAMOUS LOGO HAS BEEN CREATED GIVING DRIVERS EASY-TO-FOLLOW SIGNS TO FIND A MCDONALD'S.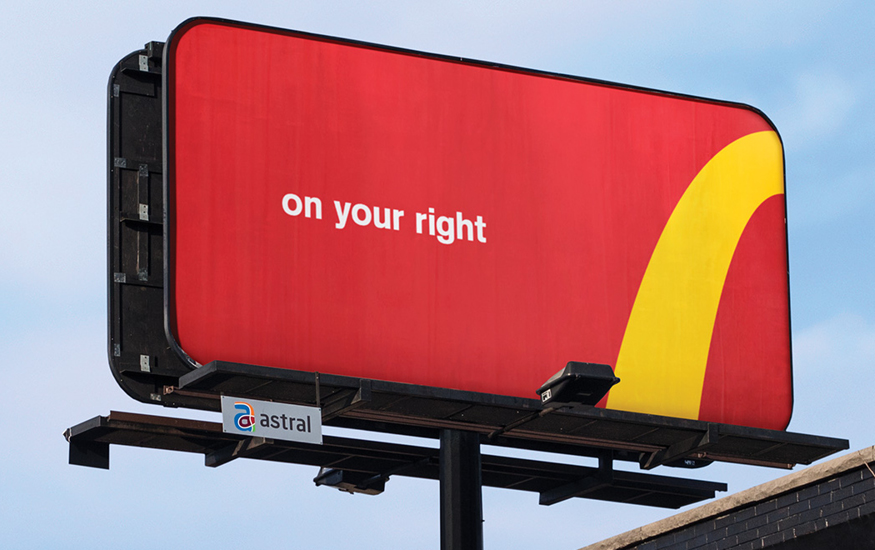 ANOTHER BRILLIANT USE OF A CROPPED LOGO IS COCA-COLA'S PATRIOTIC BILLBOARD AD IN PICCADILLY CIRCUS TO SUPPORT ENGLAND'S WORLD CUP EFFORTS. DEMONSTRATING HOW POWERFUL THE COCA-COLA BRANDING IS, THE ADVERT DOESN'T INCLUDE THE LOGO IN IT'S FULL FORM, YET STILL COMMUNICATES THE BRAND IN A CLEVER AND EMOTIVE WAY.
A DISASTROUS WEEK THAT SAW KFC HAVING TO CLOSE HUNDREDS OF STORES AFTER A SUPPLY FIASCO LEFT IT UNABLE TO SERVE UP ITS SIGNATURE FOOD. THE SUBSEQUENT APOLOGY THAT KFC PRINTED IN NATIONAL NEWSPAPERS WAS ANOTHER FANTASTIC EXAMPLE OF BRANDS PLAYING ON JUST THEIR LOGO TO COMMUNICATE A SPECIFIC MESSAGE.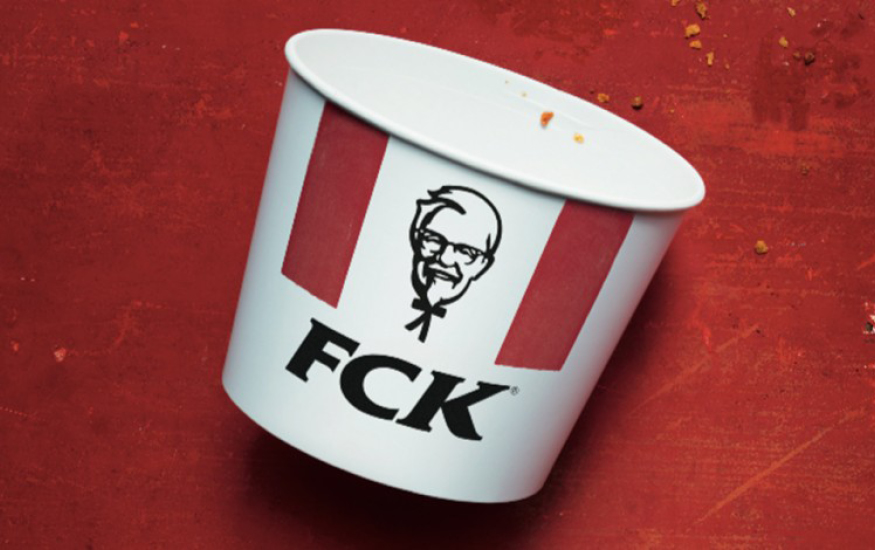 AS THESE EXAMPLES PROVE, THE BEST FORM OF ADVERTISING IS OFTEN CREATED FROM USING THE SIMPLEST OF IDEAS WITHOUT THE NEED FOR THE CLUTTER OF UNNECESSARY MESSAGES.